AMENDMENTS TO DIVISION THREE TABLE
The Management Committee has made decisions concerning recent unplayed matches. These can be seen here. Points have been awarded which affect the top of the table. The updated Division Three table is here.

RESULTS SUNDAY 22nd MAY 2022 - NEWS REPORT - TOP GOALSCORERS
All the results
here
. For updated League tables please start
here
. The week's news report is
here
and the updated Top Goalscorers page
here
.
MEMBERSHIP FOR NEXT SEASON

We have twenty confirmed teams entered for next season with two or three still in the pipeline. We are keeping application for Membership of the League open for a while. The formation of an Under 21 Division is also under consideration. Any club interested in either or both should make contact with League Chairman Stuart Turner. Contact details are to be found at http://www.wksl.org.uk/handbook/Handbook_index.htm

REMINDER - ANNUAL GENERAL MEETING THURSDAY JUNE 23rd

All concerned are reminded that the 2022 Annual General Meeting will be held at the Six in One Club, Northwood Road, Tonbridge, Thursday 23rd June. Please be there by 745pm to sign in for an 8pm start.

AWARDS TO LONG SERVING REFEREES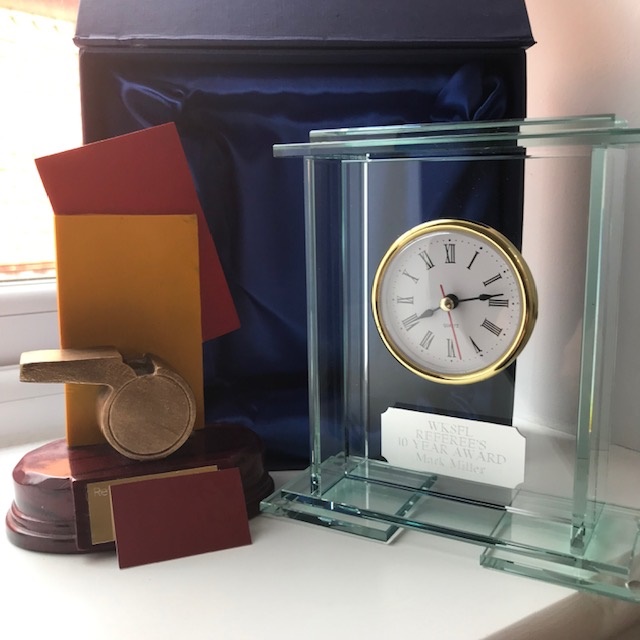 The West Kent Sunday Football league is delighted to be able to present six of its long serving referees with these very prestigious clocks having all been with the league for over ten years now. Congratulations to Micky Syrett, Mark Wilson, Leigh Judd, Mark Miller, Paul Terry and Ricky Riddall.

Click the picture to see it full size.



PRESENTATION EVENING 3rd JUNE POSTPONED

A variety of circumstances have required the postponement of the presentation evening planned for 3rd June. A new date will be announced. Meanwhile, enjoy the extra Bank Holiday.

RACISM
The League and Football as a whole will not tolerate racist remarks or comments being made by players, officials or spectators. Reported cases will be thoroughly investigated. The FA stance is set out here.


FOOTBALL DEBT RECOVERY
With the season coming to a close, NOW is the time to chase up players who owe your club money. The process you must follow is set out on this website page - https://www.kentfa.com/leagues-and-clubs/finance/debt-recovery Players who do not clear their debts will be suspended next season until they pay, if the process is correctly followed.
CHECK YOUR PLAYER'S NAMES ON THE MATCH FORM!

To avoid problems, would all concerned please ensure that the player's name is exactly correct on the match form. That is, it is the same as on the player's registration.
Goudhurst United
will be looking for new management for the oncoming season, to involve the taking of training and pre season games and match days during the season. More information and contact details
here
.
KCFA INSURANCE CLAIMS

It seems that clubs are either submitting injury claims late or not at all. Information can be found at :-
https://www.kentfafoundation.co.uk/how-to-apply/injured-player-fund/
and
http://www.kentfa.com/players/player-support/insurance
Clubs affiliated to other County Associations should check the relevant websites.
TEAM PHOTOS WANTED
One of the newspapers who prints our reports has asked if we can send them a team photo or two. If you are able to take a simple team photo before your game, please send it to me. Email webmaster@wksl.org.uk

MAILING LIST REMINDER
For the benefit of club secretaries and others, I keep a mailing list through which all subscribers are notified of website updates. If you wish your email address to be added, please
email me.
All messages from me will have WKSL WEBSITE UPDATE in the title. I recommend that you include this information in your 'whitelist' or whatever, as some spam filters have a habit of dumping my well-intentioned emails in the dustbin.
You will be notified of results and updated league tables (normally) around 10.00am every Monday morning, also of the availability of the monthly fixture lists plus any ad-hoc updates that may occur through the season.
We like to have the small cost of running the website paid through advertising by local businesses We currently have space for small adverts on several pages. If you are interested, please contact Chairman Stuart Turner.

GIVE YOUR OLD KITS TO PEOPLE WHO NEED THEM
Two of Insulator's old kits are now being used in Gambia by Keteh Jombal FC and Serridema FC.

Here is another example of what can be done rather than chucking them out! Ian Trim, who plays for Artois United, used the item below to make contact and have an old kit sent out to Malawi. So if you have old kits, don't hesitate to put them to good use. Five pictures below, click to see larger size.

Support and resources for 11 v 11 adult football from the Kent County FA :
KCFA have published a dedicated page for new and existing 11v11 adult football teams full of useful resources and information. This can be accessed by clicking
here
. They have also updated their volunteers page which includes information, websites and contacts on recruiting, supporting and developing volunteers – you can access the page by clicking
here
.
Please do not hesitate to get in touch if you have any questions or require support.
Lee Suter | Football Development Manager
Kent County Football Association
Invicta House | Cobdown Park | London Road
Ditton | Near Aylesford | Kent | ME20 6DQ
T: 01622 792 140