CHANGE OF WEBSITE MANAGEMENT
After 22 years of operating the WKSFL website, I am now handing over. Time to pursue other interests as they say, while body and mind still allow! The new website person will be John Francis. John is with Tunbridge Wells Ridgewaye FC and is well versed in the lore of local football. I am sure you will give John all the support I have enjoyed over the years. The contact email address (webmaster@wksl.org.uk) will not change.

It's been a pleasure and a privilege, but time to say farewell. You may see me on a touchline from time to time, as and when I visit the UK.

Tom Allen 13th August 2022


SEPTEMBER FIXTURES
Fixtures for the first two weeks of September will be on the website on Monday 15th August.

REGISTERING PLAYERS FOR THE 2022/3 SEASON

You are reminded that Rule 18.C says '
Each Team must have at least 12 Players registered 21 days before the start of the Playing Season. Failure to comply with this Rule will result in a fine in accordance with the Fines Tariff.'
SENIOR CUP FINAL

The senior cup final for 2021/2 between Dormansland Rockets and Paddock Wood will be on Sunday 4th September at 2pm at Tunbridge Wells FC. The full address is the
Culverden Stadium, Culverden Park Road, TN4 9SG.
COUNTY FA AFFILIATION NUMBERS

If you have not yet affiliated to your County FA please do not delay. Send your confirmed affiliation number to secretary@wksl.org.uk
PRE-SEASON CLUBS MEETING
You are all reminded that this will be on Thursday 18th August at the TW Ridgewaye FC Pavilion, Yew Tree Road, Southborough. Please be there at 7.45pm for an 8pm start.

PRE-SEASON AND CLUB ADVERTS PAGES NOW OPEN
If you are a player looking for a club, there are adverts here from various clubs looking for players.

The
pre-season page
is for clubs arranging pre season matches. If you can offer a pre season game on your own pitch or are seeking a game away from home, send your details for others to see. The
Club Adverts page
is for clubs seeking players, players seeking clubs and for the disposal of unwanted and surplus equipment. Items for both should be sent to webmaster@wksl.org.uk
MEMBERSHIP FOR NEXT SEASON
We have twenty - four confirmed teams entered for next season. The constitution of the League can be seen
here
.
INDIVIDUAL AWARDS 2021 - 2022 PRESENTED AT THE ANNUAL GENERAL MEETING

Secretary of the Year : Matt Noonan (Sedlescombe Rangers)
Referee of the Year : Jim Bodle
Refereed most matches : Mark Perrin
Club Assistant Referee of the Year : Alan Rogers (Simla)
Sportsmanship award : Dormansland Rockets.
LAST SEASON'S FINAL TABLES ETC TRANSFERRED TO ARCHIVE
I have now transferred last season's final tables, results grids and cup results over to the archive. Those pages have now been cleared in readiness for the new season. If you find any problems or broken links, please email webmaster@wksl.org.uk

AMENDED - TOP GOALSCORERS AND GOALKEEPER'S CLEAN SHEETS - FINAL TALLY AND AWARDS

Very sorry, my fault entirely. I failed to record a clean sheet by Dave Holdstock of Artois United. The Division One award is therefore shared.
Top Goalscorers : Division 1 Bal Maher (Simla / Green Lane); Division 2 Rich Wetton (Dormansland Rockets); Division 3 Ollie Sugden (Artois United Reserves).
Most clean sheets : Division 1 Joe Cullipp (Simla) and Dave Holdstock (Artois United FC); Division 2 Alex Gunn (AFC Borough); Division 3 Jamie Holder (Artois United Reserves)

FOOTBALL DEBT RECOVERY
With the season coming to a close, NOW is the time to chase up players who owe your club money. The process you must follow is set out on this website page - https://www.kentfa.com/leagues-and-clubs/finance/debt-recovery Players who do not clear their debts will be suspended next season until they pay, if the process is correctly followed.
AWARDS TO LONG SERVING REFEREES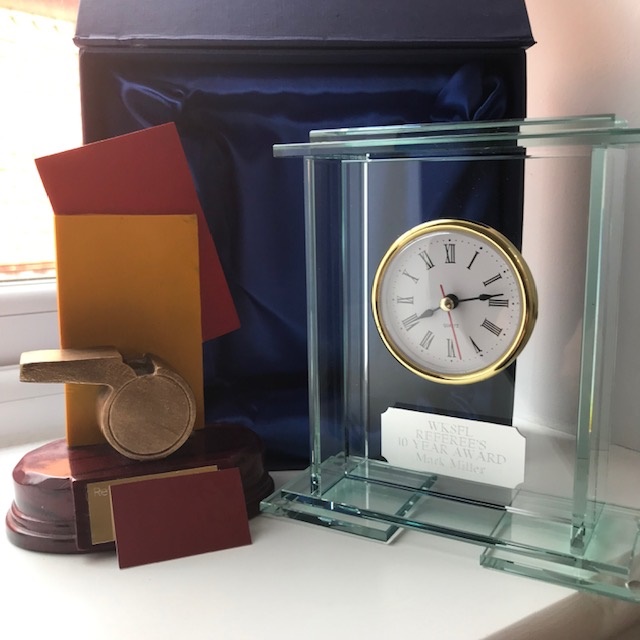 The West Kent Sunday Football league is delighted to be able to present six of its long serving referees with these very prestigious clocks having all been with the league for over ten years now. Congratulations to Micky Syrett, Mark Wilson, Leigh Judd, Mark Miller, Paul Terry and Ricky Riddall.

Click the picture to see it full size.

RACISM
The League and Football as a whole will not tolerate racist remarks or comments being made by players, officials or spectators. Reported cases will be thoroughly investigated. The FA stance is set out here.

KCFA INSURANCE CLAIMS

It seems that clubs are either submitting injury claims late or not at all. Information can be found at :-
https://www.kentfafoundation.co.uk/how-to-apply/injured-player-fund/
and
http://www.kentfa.com/players/player-support/insurance
Clubs affiliated to other County Associations should check the relevant websites.
TEAM PHOTOS WANTED
One of the newspapers who prints our reports has asked if we can send them a team photo or two. If you are able to take a simple team photo before your game, please send it to me. Email webmaster@wksl.org.uk

MAILING LIST REMINDER
For the benefit of club secretaries and others, I keep a mailing list through which all subscribers are notified of website updates. If you wish your email address to be added, please
email me.
All messages from me will have WKSL WEBSITE UPDATE in the title. I recommend that you include this information in your 'whitelist' or whatever, as some spam filters have a habit of dumping my well-intentioned emails in the dustbin.
You will be notified of results and updated league tables (normally) around 10.00am every Monday morning, also of the availability of the monthly fixture lists plus any ad-hoc updates that may occur through the season.
We like to have the small cost of running the website paid through advertising by local businesses We currently have space for small adverts on several pages. If you are interested, please contact Chairman Stuart Turner.

GIVE YOUR OLD KITS TO PEOPLE WHO NEED THEM
Two of Insulator's old kits are now being used in Gambia by Keteh Jombal FC and Serridema FC.

Here is another example of what can be done rather than chucking them out! Ian Trim, who plays for Artois United, used the item below to make contact and have an old kit sent out to Malawi. So if you have old kits, don't hesitate to put them to good use. Five pictures below, click to see larger size.