West Kent Sunday League News Report – 27th September 2020
The final stages of the delayed 2019 - 2020 WKSFL cups have now been reached with the semi-final lineups almost complete.

WKSFL Senior Cup 2019 - 2020

Charcott

will play either Simla or Artois United in the 2019 - 2020 Senior Cup final following a 3-1 win at

Armada

. Jay Pring scored two of the goals, Ben Ailles the third. Ethan McCreight was the Armada scorer. The second semi-final is next Sunday, 4th October.

WKSFL Junior Cup 2019 - 2020

Goudhurst United

finished top of Group A after beating

Insulators Reserves

3-1 at the Chequer.

It was a blustery day in Goudhurst which was always going to make it interesting to see how the teams tackled the conditions, in what was Insulators last chance to reach the semi final of the cup. Insulators were against the wind in the first half and this meant that a lot of it was spent in their own half. This was demonstrated in one ten minute period where there must have been fifteen corners in a row for the home team

Insulators had a couple of breaks, with Harry Mascall and Kieron Pattenden forcing Goudhurst goalkeeper Steve Smith into smart saves with his feet to keep his clean sheet intact at half time.

At the other end Insulators resolute defending efforts, led by the superb Lewis Mitchel, was finally breached from an old fashioned long throw into the box which was headed home by Toby Gray. A second goal followed with a good through ball and smart finish for Goudhurst's frequent scorer Harvey Parks.

Insulators made several changes in personnel and formation at half time and again created chances, but Steve Smith saved smartly, particularly an effort from Ben Obbard which looked bound for the top corner. Goudhurst defended a lot deeper against the wind than Insulators did in the first half, which proved to be working well and they then broke through to go 3 up through James Found. Insulators continued to throw everything at Goudhurst and were rewarded with a consolation goal as Sam Minter-Friers finished with aplomb from a Jake Freeman cross

They were challenging conditions and as always Goudhurst proved tough opposition. There were plenty of positives for Insulators to take in to the league campaign over the coming weeks

In Group B,

Ticehurst Village

overcame

Brenchley

6-1 to set up a winner takes all final game with TW Ridgewaye Reserves next Sunday. Both have three points, but Ticehurst have a vastly superior goal difference, so a draw would see them through to a semi-final meeting with Goudhurst United. The goals on Sunday came from Leon Fisher and Jason Marsh both with two, Calvin Camilleri and Liam Francis also scored.

The other semi final will be between Paddock Wood and Yalding & Laddingford.

Division One
Green Lane

remain top of the table after a narrow 1-0 win at local rivals

Insulators

. With Insulators only having eleven players available this looked like it could have been a very long morning. The game started that way, with the visitors seeing plenty of the ball. Pressure paid after fifteen minutes with a run down the left and good shot by Johnny Phillips into the far corner and a one-nil lead for the Lane. Green Lane continued to have most of the play, but Insulators grew into the game and had a few half chances.

Early in the second half Green Lane were awarded a heavily disputed penalty (we have VAR and the Premier League to thank for such penalties being awarded in local football). Fortunately, Max Bridges in the home goal made a great save to his right to keep the score at 0-1. After 67 minutes another penalty to Green Lane (not disputed!). The same player took the penalty with the same result. This time Bridges dived to his left to make a great save. His counterpart, Joe Roberts, finished the game with his and his team's second shut.out of the season.

Insulators gradually came into the game and had several chances of their own to get something from the game but couldn't find the net. Overall, a really good game. Green Lane played well, as did an Insulators side with no reinforcements available.



Simla

pushed into second spot beating

Dormansland Rockets

5-1, a game in which Harry Hudson and Myles Lowden each scored twice. Ian Parsons hit the fifth. For the Rockets, last season's prolific scorer Rich Wetton was the name on the scoresheet.

[Website person's comment - as for the penalties, unfortunately the powers that be have set out several 'instructions' as to what now constitutes handball, leaving referees almost no option to consider it accidental, which we always used to when the interpretations were not crafted with TV replays in mind. 99% of football is played in real time with no slow motion replays involving lengthy and microscopic examination of the incident. How many referees at our level will now simply say 'I didn't see it'? There were two truly amazing decisions at the weekend in those televised games.]


Pos
Team
P
W
D
L
F
A
GD
Pts
1
Green Lane
4
3
0
1
5
3
2
9
2
Simla
3
2
0
1
9
4
5
6
3
Artois United
3
2
0
1
5
4
1
6
4
Charcott
1
1
0
0
2
1
1
3
5
Dormansland Rockets
3
1
0
2
3
7
-4
3
6
Armada
1
0
0
1
2
3
-1
0
7
Insulators
3
0
0
3
3
7
-4
0
Division Two
Paddock Wood

, pictured below, made it two wins from two league games beating

Pembury Sunday

2-0. The Wood missed a host of chances, hitting the crossbar twice and having three goals chalked off for offside. There were also some fine saves by the Pembury goalkeeper. However a goal in each half sealed the win. A superb volley from George Bourne in the first half was followed up by an Adam French goal in the final minutes of the game to give the hosts a well deserved three points.

Click the picture for a larger size.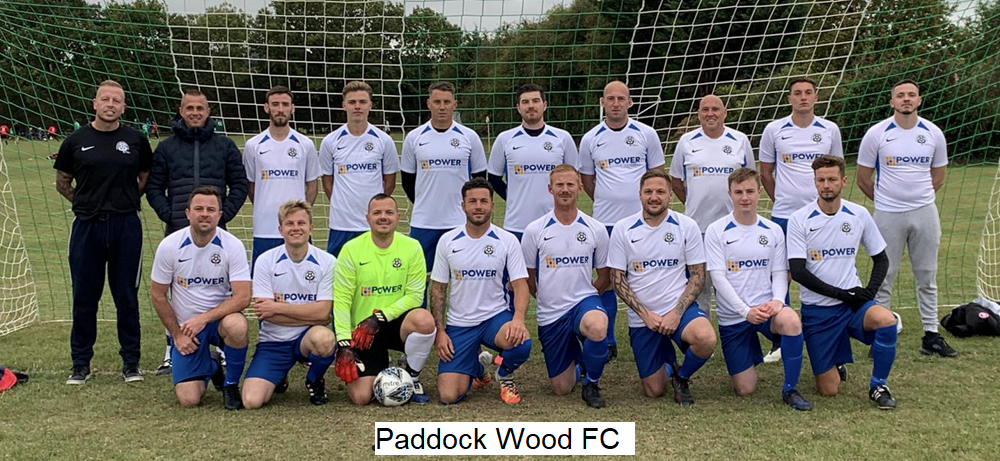 TW Ridgewaye

recorded their first league win of the season. A single goal by Adam Davies-Knight gave them the points against

Cassidy's Phoenix

. Matt Harman kept the clean sheet for Ridgewaye.



St John's Yard

and

AFC Valour

shared five goals at the Hilbert. It was the Yard who came out on top, winning the close game 3-2. Josh Williams, Phil Abbott and, from the penalty spot, Lewis Stack scored for the Yard. For Valour it was Craig Dobereiner, also a penalty and Rhys Harvey-Little.



Royal Oak

, having been involved in cup ties, finally began their league season, but it was a disappointing 2-1 home defeat at the hands of

Artois United Reserves

. Dan Lazell scored for the Oak, a penalty from Craig Dobereiner and a strike by Rhys Harvey - Little ensured the spoils went back to East Peckham.


Pos
Team
P
W
D
L
F
A
GD
Pts
1
Nomads
3
3
0
0
12
6
6
9
2
Pembury Sunday
4
2
1
1
11
6
5
7
3
Paddock Wood
2
2
0
0
8
2
6
6
4
Saint John's Yard
3
1
1
1
7
8
-1
4
5
Goudhurst United
2
1
0
1
4
3
1
3
6
AFC Valour
3
1
0
2
7
7
0
3
7
TW Ridgewaye
2
1
0
1
5
5
0
3
8
Artois United Reserves
3
1
0
2
6
12
-6
3
9
Royal Oak
1
0
0
1
1
2
-1
0
10
Cassidy's Phoenix
3
0
0
3
0
10
-10
0
Division Three
AFC Borough

continue to set the pace and made it four wins from four with a 3-1 win at home to fellow newcomers

Dunton Green

.

The first half was bright for Borough, playing with the wind, the Division's leading scorer Luke Leppard was causing problems and picked up an early goal by driving into the box and shooting at the near post. Five minutes from half time, Leppard was in the corner and played a ball back out to Benji Simmonds who shot from about 25 yards and hit the top left corner of the net. In the second half Dunton Green settled a bit and enjoyed the aid of the wind scoring off a deflection that lobbed our keeper. The goal was attributed to Josh Holland.

Leppard was causing problems that Dunton Green couldn't solve without simply fouling him. This resulted in a red card. Borough killed the game off with ten minutes to go when George Holman beat the keeper in a 50/50 and slid the ball into an open net from a tight angle. A good game, well fought by both teams but a reasonably comfortable win for AFC Borough.



Sedlescombe Rangers

moved above Dunton Green into second place with a 1-0 win at

Tonbridge United

. The only goal was scored by Rangers Josh Pool, while in goal Henry Lankston kept his side's first clean sheet of the season.



Yalding & Laddingford

and their visitors

Speldhurst Rangers

were both pointless before kickoff, but by the end of the ninety minutes a 2-2 draw had got them both off that zero. Grant Allen and Oliver Leigh scored for Yalding, James Hughes and Leo Hall for Rangers


Pos
Team
P
W
D
L
F
A
GD
Pts
1
AFC Borough
4
4
0
0
17
5
12
12
2
Sedlescombe Rangers
4
3
0
1
9
7
2
9
3
Dunton Green
4
2
0
2
9
8
1
6
4
TW Ridgewaye Reserves
1
1
0
0
5
3
2
3
5
Ticehurst Village Club
1
1
0
0
2
0
2
3
6
Brenchley
2
1
0
1
3
3
0
3
7
Insulators Reserves
2
0
1
1
5
7
-2
1
8
Yalding & Laddingford
2
0
1
1
5
7
-2
1
9
Tonbridge United
4
0
1
3
5
11
-6
1
10
Speldhurst Rangers
4
0
1
3
6
15
-9
1