These reports are no longer published in the local press. They are not copyrighted, feel free to use providing you acknowledge the source!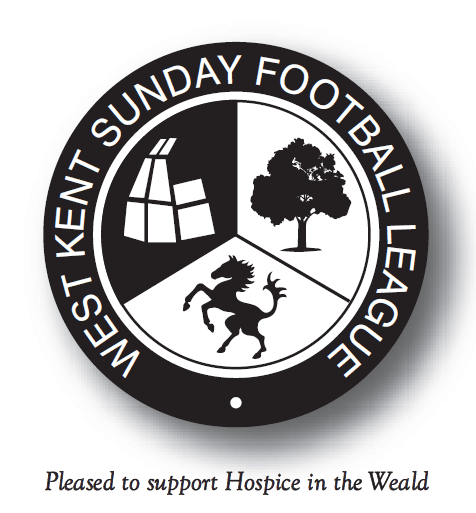 West Kent Sunday League Report – Sunday 18th September 2016

Gaols galore on Sunday, especially in Division Four where the five matches produced a total of 39. That's an average of almost 8 per game! Seven players hit hat-tricks. I wonder what the goalkeepers are going through. All the results here.

Division One
There was no lack of goals in Division One.

Simla

already look like sweeping all before them as they went one better than the previous two games in beating

Rusthall Rangers

10-0.

David Blundell scored within the first couple of minutes, before Rusthall settled down and played some good football. Then three more goals for Simla just before half time sealed the match. Scorers were David Blundell again and one each for Matt Newman and Alex Carey.

The second half was all Simla with six more goals. David Blundell completed his hat trick and Matt Newman scored two more for his hat trick, then two were scored by Ian Parsons and number ten was scored by Michael Hunte. Joe Cullip was clean sheet keeper for Simla. Blundell has scored a hat-trick in each of Simla's first three matches. Some kind of record perhaps?



Insulators

were honest enough to say that they rode their luck in their 4-1 home win over

Artois Unite

d

. Andy Tarling put Insulators ahead, Artois equalised, scorer unknown. Tarling added another before half time leaving the score at 2-1 after a very competitive half. In the second half, Tarling went on to complete his hat-trick before a late goal by Martin Page-Mitchell made the points safe. It was a flattering scoreline, said Insulators management!



Tonbridge Origin

are 100% after two league matches. They overcame

Tunbridge Wells Foresters

at Tonbridge Farm, also by 4-1. Ash Kent, Rob Harman, Chris Gregory and, from the penalty spot, Rich Donaldson were the scorers. Taylor Galvin hit Forester's consolation.



Blackham & Ashurst

and

Dormansland Rockets

shared eight goals at Goldsmith's. The 4 -4 draw featured strikes by four Blackham players, namely Ben Freeman, Dave Adams, Tom Penfold and Sam Crisp. I do not have Rockets scorers at the time of writing.

Nest Sunday sees Armada, Artois United, Simla and Tunbridge Wells Foresters entering the fray for the Kent Sunday Premier Cup. An all WKSFL tie between Foresters and Simla will ensure one of our sides progresses to Round Two. Insulators and Tonbridge Origin meanwhile will be hoping for League points to gain some ground on Simla.



Pos
Team
P
W
D
L
F
A
GD
Pts
1
Simla
3
3
0
0
28
1
27
9
2
Tonbridge Origin
2
2
0
0
8
1
7
6
3
Insulators
2
2
0
0
6
2
4
6
4
Artois United
2
1
0
1
9
6
3
3
5
TW Foresters
3
1
0
2
11
12
-1
3
6
Rusthall Rangers
3
1
0
2
7
18
-11
3
7
Dormansland Rockets
2
0
1
1
4
11
-7
1
8
Blackham & Ashurst
3
0
1
2
6
15
-9
1
9
Armada
1
0
0
1
0
4
-4
0
10
Goudhurst United
1
0
0
1
0
9
-9
0
Division Two
Leaders

Paddock Wood

had a narrow 3-2 win over

Cassidy's Phoenix

, who had begun the season well. The familiar name of Troy Cooper scored twice for the Wood, Scott McGuire the other. Alberto Fernandez scored both for Cassidy's.



Gardener's Arms

rose into second spot after a good 2-0 win at

South East Spitfires

. Scorers were a couple of well known names entering the veteran stage of their careers. It was Aaron Austin and Jon Loveday who scored the vital goals. Ben Carter kept his goal intact.



Hawkenbury Sunday

have started well. They claimed the three points at

Green Lane

with two goals each from Ashley Bell and Frankie Fuller making it 4-0 at the end. Nick Drinkwater was the clean sheet goalie.



Pembury Sunday

have belatedly started their season and it was a 3-3 draw at Woodside where

Brenchley

were the visitors. Steve Harper, a prolific scorer last season, made his mark with two for Pembury, the third came from Matt Rice-Tucker. Brenchley´s replies were two from Tom Lowe and one from Dan Wood.

The game between

Langton Green

and

Hadlow Hornets

did not take place following the non-arrival of the referee and apparently 'neither side had a match form'. This is against league rules and action may be taken against both clubs. The match will be rescheduled.



Pos
Team
P
W
D
L
F
A
GD
Pts
1
Paddock Wood
3
3
0
0
12
6
6
9
2
Gardener's Arms
3
2
1
0
9
6
3
7
3
Hawkenbury Sunday
2
2
0
0
10
4
6
6
4
Cassidy's Phoenix
3
1
1
1
9
7
2
4
5
Pembury Sunday
1
0
1
0
3
3
0
1
6
Brenchley
2
0
1
1
6
8
-2
1
7
SE Spitfires
3
0
1
2
6
10
-4
1
8
Green Lane
2
0
1
1
3
7
-4
1
9
Hadlow Hornets
1
0
0
1
2
5
-3
0
10
Langton Green
2
0
0
2
4
8
-4
0
Division Three
Crowborough Town

are setting a hot pace at the top of Division Three and are on maximum points after three games.

After the previous few games when Town managed to get on the score sheet in the first few minutes, this week

Paddock Wood Reserves

held them at bay and restricted them to just a couple of corners. Things then went from bad to worse when the visitors caught their hosts on the break to go one up (scorer unknown) and they then had chances to make this more. Eventually Town settled down and Biffa Martin latched on to a loose ball in the six yard box to make it 1 - 1. With Crowborough increasing the pressure, the goal scorer turned provider with a through ball to Darren Nicol to make it two and this was followed by a third when leading Crowborough goalscorer Matt Pickett at last came alive to find the net. Five minutes later he was at it again to score his second of the game and make it 4 - 1 and this was followed by a rare goal from Steve Palmer when he converted a Town corner.

Half Time : Crowborough Town 5 - 1 Paddock Wood Reserves

To their credit, Paddock Wood would not give in and from the restart they put pressure on the home team and it was Steve Palmer who this time turned from goalscorer to his more usual role of goal stopper with a goal line clearance. This narrow escape was followed by some good fortune when Matt Pickett, having taken on some water, rejoined the game to score again and complete his second hat-trick of the season. The final goal of the game was another made by Biffa Martin, this time tucked away by Jordan Vinall.

Leading the chase are

Tonbridge Invicta

, also on maximum points but with an inferior goal difference. That's despite a 6-0 win at home to

Speldhurst Rangers

, who were playing their first game of the season. Sam Wyles was the chief architect of Rangers downfall, hitting the net four times. The other two were scored by Ashleigh Craft and Tommy Wellham, while Sam Collard in goal enjoyed no doubt his second clean sheet of the season.

Jack Veness of

St John's Yard

scored twice for his team away at

Bricklayer's Arms

, then handled the ball to give away a penalty which was converted by James Bodkin for the winning goal. Craig Bishop had given the Bricks an early lead, which was doubled when St John's Yard defence and goalkeeper went to sleep allow James Gould through to make it 2-0. Veness then scored twice to level the game, the second being a perfectly executed free kick. But then came his mistake and the outcome a 3-2 win for Bricklayer's Arms.

The match between

Rusthall Club Athletic

and

Green Street Blues

was abandoned. I do not know the circumstances.


Pos
Team
P
W
D
L
F
A
GD
Pts
1
Crowborough Town
3
3
0
0
14
2
12
9
2
Tonbridge Invicta
3
3
0
0
12
3
9
9
3
Green St Blues
2
1
0
1
5
2
3
3
4
Bricklayers Arms
2
1
0
1
3
4
-1
3
5
Ticehurst Village
2
0
1
1
3
7
-4
1
6
St John's Yard
3
0
1
2
4
10
-6
1
7
Rusthall Club Athletic
1
0
0
1
3
4
-1
0
8
Paddock Wood Reserves
1
0
0
1
1
7
-6
0
9
Speldhurst Rangers
1
0
0
1
0
6
-6
0
Division Four
Most of the goalkeepers in Division Four must have had sore backs on Monday morning. Goals everywhere.

The highest scoring game was at

FC Grinstead

, where a toal of twelve goals came about when they entertained

TW Ridgeway.

FC Grinstead came out on top 7-5, thanks to Connor Tobin's second hat-trick of the season, a hat-trick also from Charlie Barwell and a pair from Mick Neatherway. Ridgeway's share of the haul was with two each from Daniel Kommu and Ted Thomson plusone from Jack Birdsall.

Good attacking play or poor defending? A mixture of both saw an entertaining end to end game.

FC Grinstead got the game going and almost scored with the first touch of the game after Charlie Barwell shot from inside his own half which almost paid off with the keeper scrambling back to his line and managing to tip the ball onto the crossbar. FC Grinstead then went 2-0 up early on with Connor Tobin and Barwell scoring.

Two early goals for Grinstead would have rattled many a team but it wasa great show of character from a much younger and less experienced Ridgewaye to keep fighting back.

Ridgeway got one back through Dan Kommu and Grinstead's Tobin then got his second shortly after. Ridgeway got another back with a long ball over the top to make it 3-2 and adding the third just before half time with a penalty kick. 3-3 at the halftime break. Micky Neatherway opened the scoring in the second half, but Ridgeway then equalised ten minutes later, with a good follow up header from Jack Birdsall after Dan Kommu's shot had hit the crossbar.FC Grinstead's lead was quickly restored with Barwell adding his second of the game from roughly 40 yards, lobbing the keeper successfully this time. Once again Ridgeway came from behind to make it 5-5. FC Grinstead then took the lead for the fourth time of the match with ten minutes to go, with Tobin completing his hat-trick and Neatherway adding his second shortly after. Unfortunately, Ridgewaye's keeper Josh Wapshott was left exposed at the back when Grinstead broke away and Neatherway scored the goal that finally sealed a deserved win and to finish the game off 7-5 to FC Grinstead. A frantic finale followed, but Grinstead held out.

Leaders

FC Hayward

found themselves in a seven goal game, game up against

AFC Six in One

at Tonbridge Farm. They came out top 4-3 thanks to two from Dave Fowler and also two from Dylon Thomas. Ryan Smith scored twice and Jason carver once for Six in One.



TW Foresters Reserves

stay third and with a game in hand after a 4-2 win at

Hadlow United

. Dean Squires scored twice for Foresters, Mark Inglis and James Culmer were also on the scoresheet. United, now winless after three games, scored two for the third week running this time by Jimmy Smith and Darren Prickett.

There was a goal fest at Chequer Field, where

Goudhurst United

Reserves

and

Tonbridge Origin Reserves

played out a 5-5 draw! For United, the scorers were Will Mantle and Mason Thompson with two each, to which was added an own goal. For Origin, Alex Williamson was a hat-trick man, Will Ashenden and Matt Butcher added the remainder.

And finally, it was a relatively low-key affair on the 3G at Hayesbrook School where

Tonbridge Casuals

and

Insulators Reserves

drew two-all.

A scrappy first half saw very few chances for either team, with Casuals resorting to the long ball to the big guy up front tactic, which Insulators seemed to have covered. It was going to take a piece of luck or brilliance to break the deadlock and after a period of good Insulators possession it was Casuals who broke the deadlock with a speculative effort by veteran Mark Whorlow deflecting over Grant Leslie in the Insulators goal for the lead . One- nil to Casuals at half time.

The second half started as scrappily as the first before the introduction of Howard Fox and Reece Beecroft by Insulators saw them take control of the game. Two goals followed as Insulators took the lead through Lee Didsbury and captain Greg Dodson As the game was petering out, it did finish with a piece of brilliance by Casuals. The equaliser was a thing of beauty by Luke Hills (and rthis was written by the other team!). Two weeks and two last minute goals have seen Insulators drop four points, but they remain unbeaten and look forward to the trip to Hadlow next week



Pos
Team
P
W
D
L
F
A
GD
Pts
1
FC Hayward
3
3
0
0
15
5
10
9
2
TW Youth (Ridgewaye)
3
2
0
1
14
11
3
6
3
TW Foresters Reserves
2
2
0
0
7
4
3
6
4
FC Grinstead
3
1
2
0
13
11
2
5
5
Insulators Reserves
3
1
2
0
6
4
2
5
6
AFC Six in One
3
1
1
1
12
10
2
4
7
Tonbridge Origin Reserves
2
0
2
0
6
6
0
2
8
Tonbridge Casuals
3
0
2
1
5
9
-4
2
9
Goudhurst Utd Reserves
3
0
1
2
7
12
-5
1
10
Hadlow United
3
0
0
3
6
11
-5
0
11
Tonbridge United
2
0
0
2
2
10
-8
0
Top Goalscorers - not yet!