West Kent Sunday League News Report – 13th September 2020
The second Sunday of the season saw some decisive results in the Cup matches brought over from the truncated previous season.

WKSFL Senior Cup 2019 - 2020

The semi final line-up is complete.



Simla

and

Armada

both booked their place with resounding quarter-final home wins. Simla crushed

Dormansland Rockets

8-0, with a hat-trick by Steve Smith leading the way. Also scoring were Stewart Gostlow, Brad Draper, Matt Crompton, Chris Stoate and Ian Parsons. New 'keeper Steve Burtonshaw kept the clean sheet.



Armada

enjoyed a 7-2 win over

Royal Oak

in which they had six different goalscorers plus an own goal. Racking up the goals were James Donaldson, Ethan McCreight, Harry Tampsett, Jack Matthews, Josh Matthews and Ben Parkin. Plus an un-named Oak man.

The semi finals, to be played in October will be : Armada v Charcott and Simla v Artois United

WKSFL Intermediate Cup 2019 - 2020

The semi-finals of the Intermediate Cup are also now complete following

St John's Yard

2-1 home win over

Charcott

. It was a very hard fought game with the Yard fortunately running out the victors thanks to a very late winner. Reece Horrseman put the Yard ahead on eight minutes, but it wasn't long before Charcott equalised through Ben Ailles.

It looked like the game would go to penalties, but with two minutes remaining Horseman came up with the winner.

The Intermediate Cup semi-finals, also to be played in October, will be : AFC Valour v Dormansland Rockets and St John's Yard v Artois United Reserves

WKSFL Junior Cup 2019 - 2020

The first round of the Junior Cup is being played in two groups. Group 1 took an interesting turn after

Goudhurst United

overcame

Yalding & Laddingford

2-0, both the goals coming from Harvey Parks. Goudhurst now need one point from their final game against Insulators Reserves to be certain of winning the group and going through to the semi finals. For their part, should Insulators Reserves win by two clear goals, they would top the group. Another Steve Smith, this one in goal, kept the clean sheet for Goudhurst United. The fine body of men below is Yalding & Laddingford FC.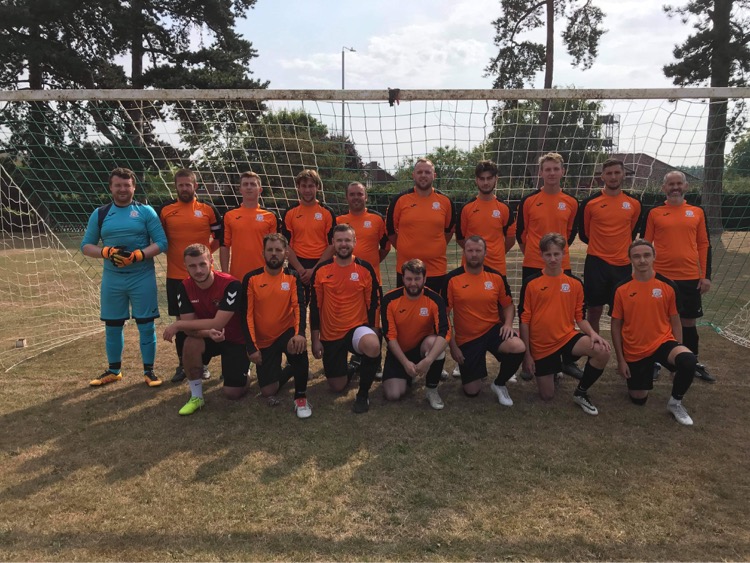 Paddock Wood

are top of Group 2 after a narrow 2-1 win at home against

Ticehurst Village

. A point in their final game against Brenchley would confirm their top spot but, should they slip up, both Ticehurst Village and TW Ridgewaye Reserves will be poised. It was a competitive but somewhat scrappy game played at the Elm Tree.

Harry Gammer opened the scoring for the hosts, but by half time the visitors had levelled things up. (Scorer's name unknown.) Paddock Wood managed to get the winner in the second half with Alex Emery rounding the 'keeper before slotting home to give the victory.

Division One
There was just one game in which

Green Lane

beat

Artois United

2-1, Jason Hill and Bayley Colbran scoring for the Lane. Artois scorer not known.


Pos
Team
P
W
D
L
F
A
GD
Pts
1
Simla
1
1
0
0
4
2
2
3
2
Dormansland Rockets
1
1
0
0
2
1
1
3
3
Artois United
2
1
0
1
4
4
0
3
4
Green Lane
2
1
0
1
3
3
0
3
5
Charcott
0
0
0
0
0
0
0
0
6
Armada
1
0
0
1
2
3
-1
0
7
Insulators
1
0
0
1
2
4
-2
0
Division Two
Pembury Sunday

are setting the pace in Division Two. A 6-0 win at home to

Cassidy's Phoenix

sees them top the table on goal difference. Pembury's Scott Moran scored twice, there was one each from Tom Price, Steve Harper, Matt Rice-Tucker, and Robbie Bissett. Between the sticks it was Callum Ryan keeping his sheet clean.



Nomads

, new to the League, are also making a good start although they had to work hard against

TW Ridgewaye

in a game that saw nine goals scored. Nomads had the 5-4 win, thanks to goals from Rhys White (2), Nicky Foad, Kieron Bence and Jack Leighton. For Ridgewaye it was two each from Adam Davies-Knight and Harry Demmon.



AFC Valour

began their League campaign with a 5-2 win over

Artois United Reserves

. Two goals came from Connor Robbins, there was one each from Steve Ednie and Johnny Rougier. An own goal completed the list.


Pos
Team
P
W
D
L
F
A
GD
Pts
1
Pembury Sunday
2
2
0
0
9
2
7
6
2
Nomads
2
2
0
0
9
6
3
6
3
AFC Valour
1
1
0
0
5
2
3
3
4
Paddock Wood
0
0
0
0
0
0
0
0
5
Royal Oak
0
0
0
0
0
0
0
0
6
TW Ridgewaye
1
0
0
1
4
5
-1
0
7
Goudhurst United
1
0
0
1
2
3
-1
0
8
Saint John's Yard
1
0
0
1
2
4
-2
0
9
Artois United Reserves
1
0
0
1
2
5
-3
0
10
Cassidy's Phoenix
1
0
0
1
0
6
-6
0
Division Three
A

FC Borough

already look strong contenders. On Sunday they travelled down to

Sedlescombe Ranger

s and came back with a 4-1 win under their belts, with Luke Leppard scoring twice. Also on the scoresheet were Matt Taylor and Jake Lorimer. Josh Pool was the Rangers scorer.



Dunton Green

clocked up their first win, 4 - 1 at home to

Speldhurst Rangers

. Rory Ward scored twice for the hosts, Patrick Smith and Henry Smart once each. For the second week running, James Hughes was the Rangers only scorer.



Tonbridge United

and

Insulators Reserves

fought out a 3-3 draw at Tonbridge Farm. From the Insulators viewpoint, was another case of chances missed coupled with a few errors that led to goals for the opposition. A very open start to the game saw defences turned at both ends but neither team able to really challenge the goalkeeper. Then a speculative effort from United saw them take the lead as Oliver Howard beat Dan Marks in the Insulators goal

Insulators pilled on the pressure to get the equaliser, with a good save denying a Harry Mascall effort and a Greg Dodson shot just flying over the crossbar. In between there was a smart save by Marks to ensure it didn't get worse. At half time United went in one-nil up

Insulators started the second half strongly and equalised through Harry Mascall, who was ably assisted by Jake Freeman.The game was becoming increasingly competitive in midfield and Martin Ives was shining for Insulators even as the grandad of the team. United were then awarded a disputed penalty which they converted to lead 2 1

Jake Freeman then turned goal scorer to equalise a minute later to set up a tense last twenty minutes.A long ball from United bounced over the Insulators back line and they ran through to lead again 3-2. Insulators kept pushing and Sam Minter-Frier scored a great goal to equalise once more and came close to stealing all three points as the game come to a close. Elliot Checkley scored the other Tonbridge United goals.

A draw kicks off the league campaign and with a couple of tough games ahead for Insulators we need to find our winning boots


Pos
Team
P
W
D
L
F
A
GD
Pts
1
AFC Borough
2
2
0
0
8
2
6
6
2
Brenchley
1
1
0
0
3
1
2
3
3
Dunton Green
2
1
0
1
5
4
1
3
4
Sedlescombe Rangers
2
1
0
1
4
5
-1
3
5
Insulators Reserves
1
0
1
0
3
3
0
1
6
Tonbridge United
2
0
1
1
4
7
-3
1
7
Ticehurst Village Club
0
0
0
0
0
0
0
0
8
TW Ridgewaye Reserves
0
0
0
0
0
0
0
0
9
Yalding & Laddingford
0
0
0
0
0
0
0
0
10
Speldhurst Rangers
2
0
0
2
2
7
-5
0