West Kent Sunday League News Report – 10th October 2021

Top of this week's report is the annual Charity Shield match held last Wednesday at Rusthall FC. A good sum was raised.

Sunday saw some matches called off or walkovers awarded, especially in the Kent County Cups where teams were either unwilling or unable to travel, perhaps because of the ongoing fuel shortages.

West Kent Sunday Football League Charity Shield 2021
Played at Rusthall FC on Wednesday night, Simla beat Pembury Sunday 3-0 in a good match.

Simla started the match lively, with a couple of early shots on goal with one on target. Then the match opened up, with both teams having their share of the ball. Pembury were awarded a free kick just outside Simla's penalty area but the shot was put over the bar.
Simla's first goal came in the 23rd minute from an Ian Parsons pass into the Pembury penalty area, which was swiftly put away by Brad Draper. Then there was good build up play at each end which led to several chances from both teams but with no further goals by half time.

In the second half Matt Coleman had an early shot on target which was saved by Toby Forward, the Pembury keeper. Then ten minutes into the second half, Simla started to put pressure on the Pembury goal. Matt Crompton supplied the perfect pass to Steve Smith on the edge of the Pembury penalty area. He created the space that allowed him to blast the ball into the net.
Then there was a period where both teams were playing some very good football which led to several shots on goal from each team. Pembury's best chance came from a corner where the ball fell to a Pembury player who shot hard at goal but it was saved by Simla's keeper Joe Cullip.

On the 28th minute of the second half Steve Smith received the ball on the half way line and quickly back heeled the ball into path of a fast running Elliot Moon, who weaved his way through the defenders who couldn't prevent him from firing off a shot across the 'keeper and into the corner of the goal.

At the end of the match both teams should be proud of their performance in what was a very exciting match to watch.

The Charity Shield was presented to Simla FC by former League General Secretary Angela Barham who stepped down earlier this year after ten years of service. The Hospice in the Weald will benefit from the evening's takings, which at the time of writing amount to some £850. Donations are still coming in. This figure will increase! A big thank you to all who came on the night.

Photos - click a picture to see it full size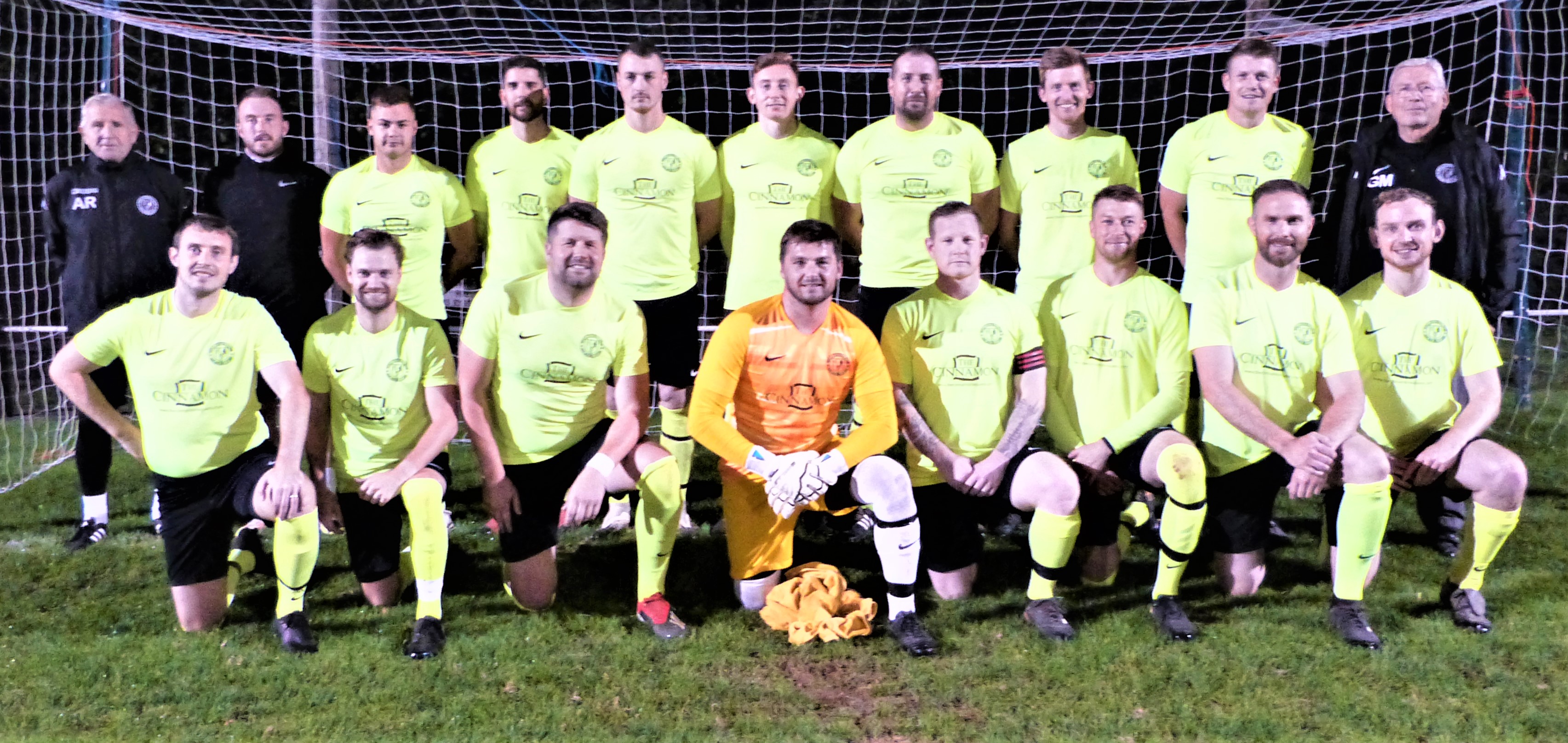 SIMLA FC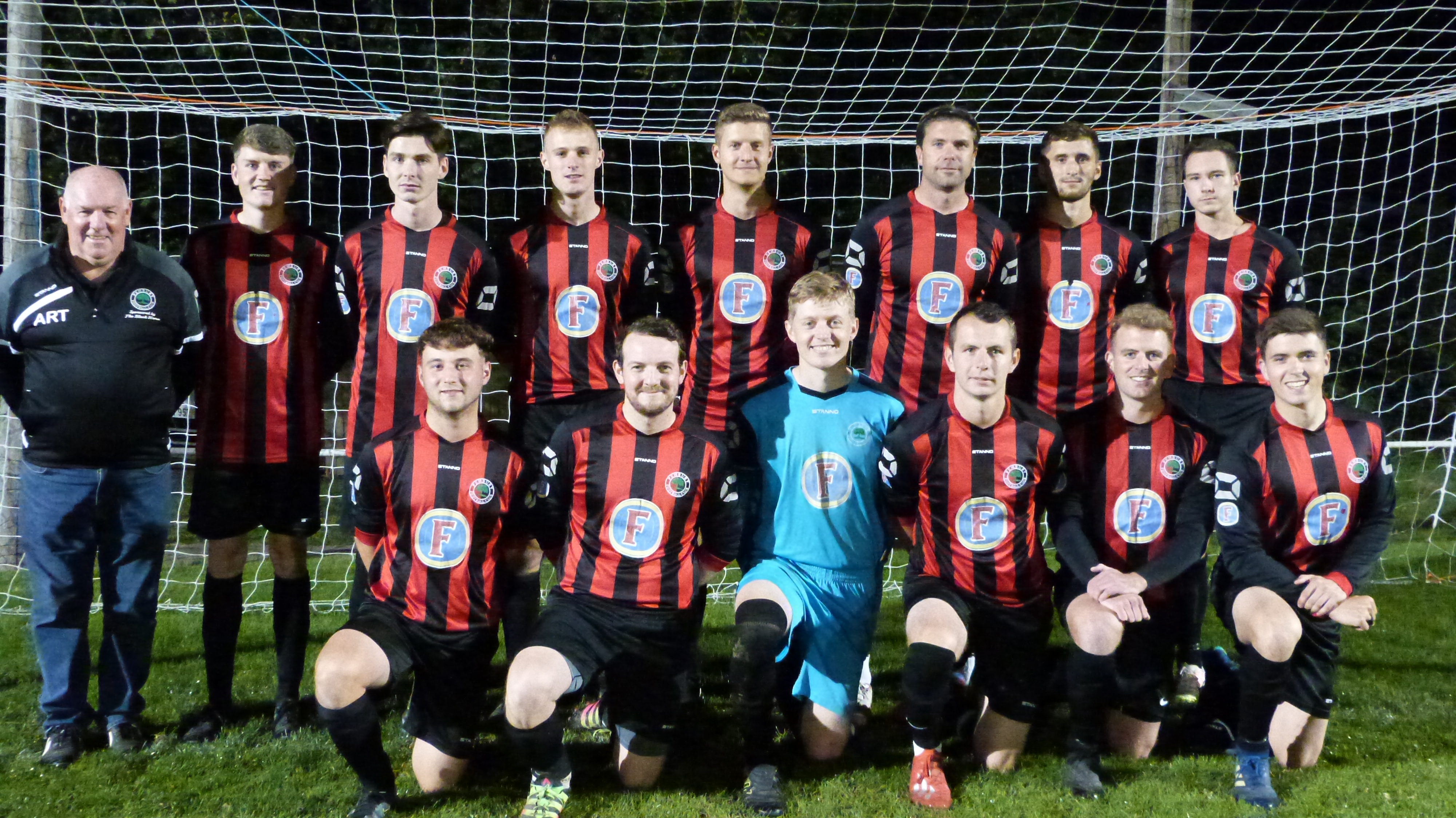 PEMBURY SUNDAY FC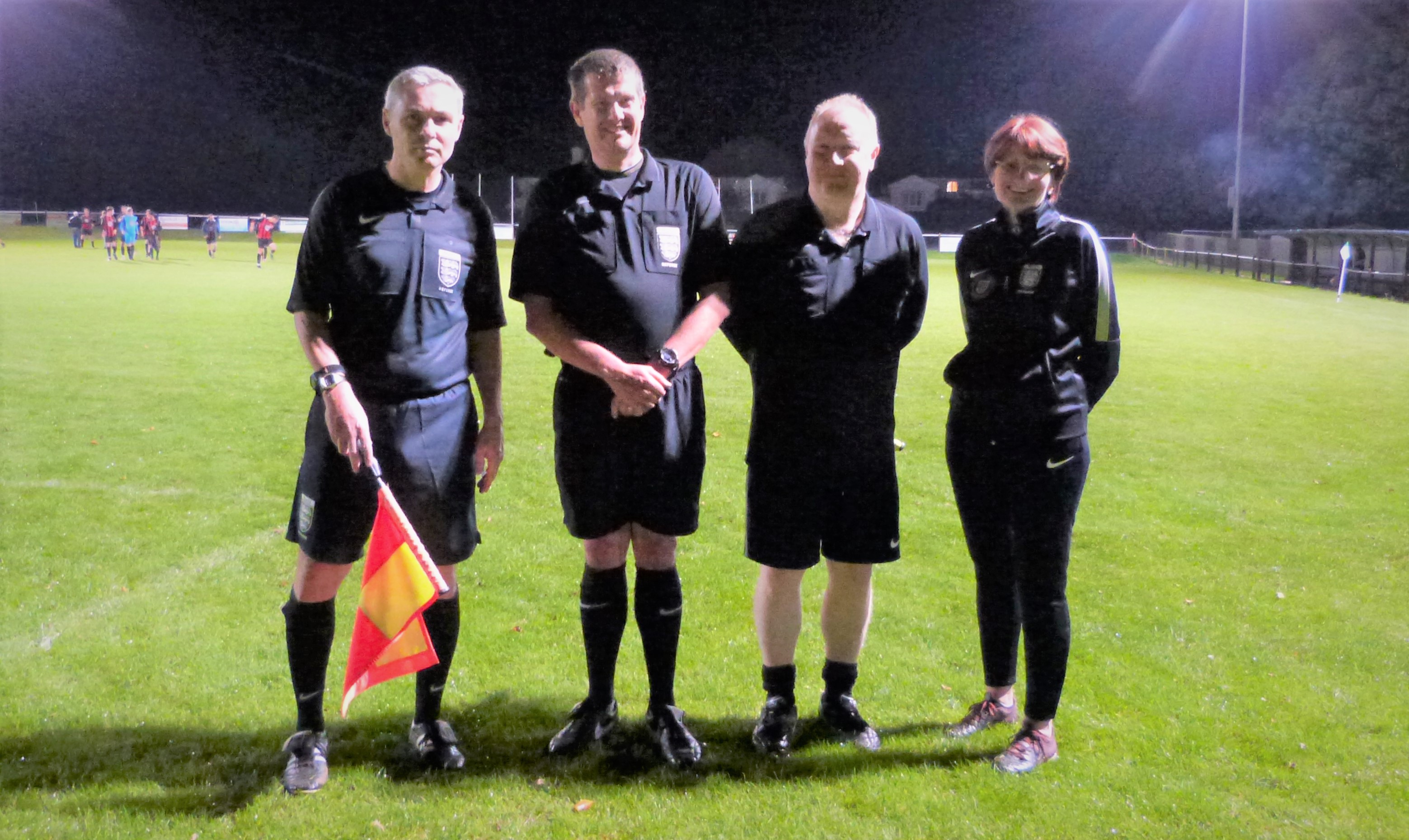 MATCH OFFICIALS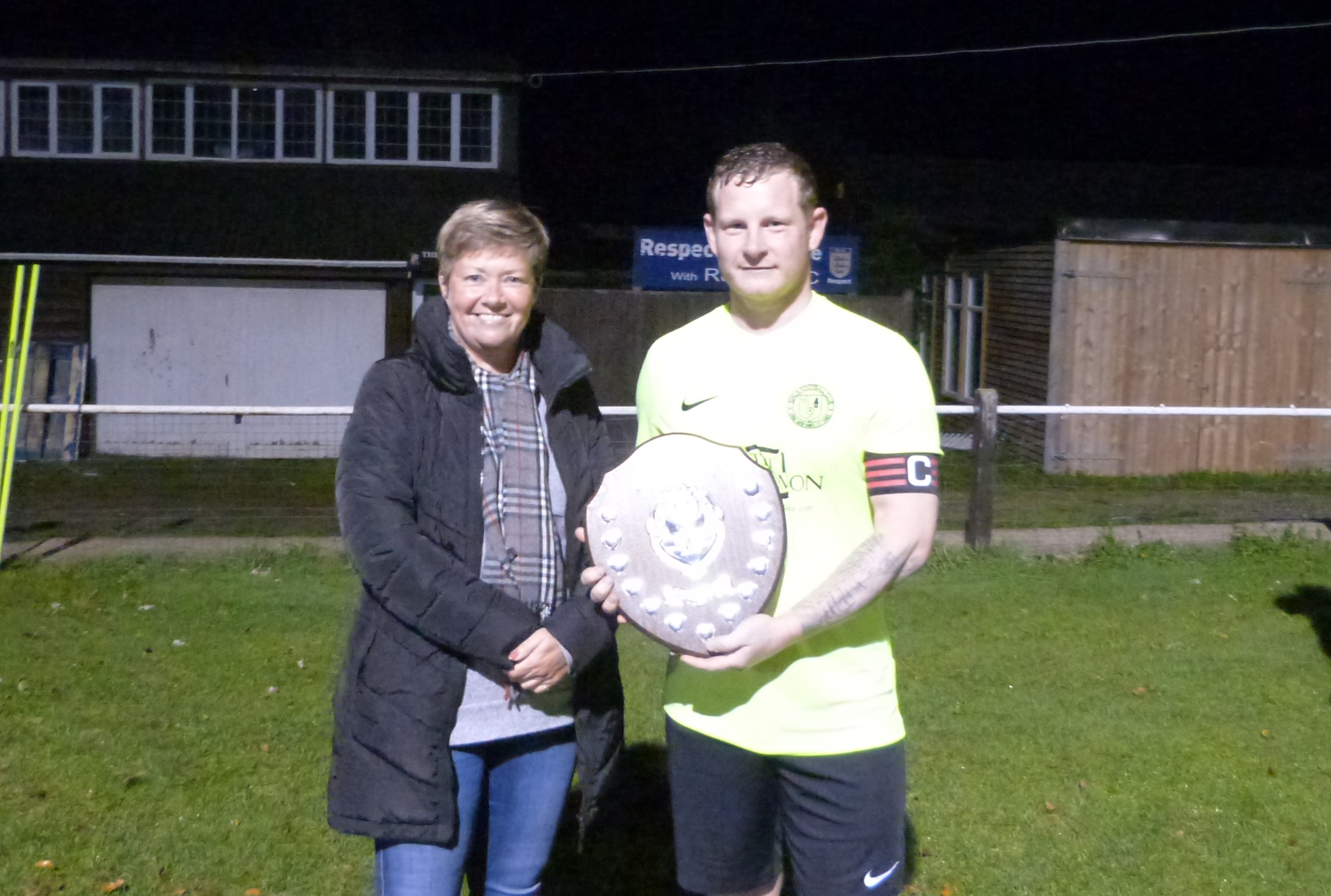 ANGELA BARHAM PRESENTS THE CHARITY SHIELD TO GREG NICHOLSON OF SIMLA FC.

Kent Sunday Premier Cup

Artois United

had little difficulty in overcoming

East Malling United

of the Maidstone League, winning their home tie 3-0. The goals were scored by Regan Corke, Dan Austin, and Ben Holder.



Insulators

were denied by a last minute penalty winner at Ashford League side

Mersham Sports

. It was 1-1 at half time, Cole Walsh of Insulators having equalised an early and somewhat contentious goal from James Atkins. Insulators felt it should have given offside, the referee disagreed. No VAR of course! In the second half, the game flowed end to end, with Insulators ´keeper Dan Marks being called upon to make several good saves. In the 93rd minute, Insulators conceded a disputed penalty, Jon Turley scored and with no time remaining he claimed the spoils for the home club.

Kent Sunday Junior Cup
Only one of the three scheduled ties took place. It was a long and fruitless trip for

AFC Borough

down to Ashford League side

Egerton

. They crashed to a 5-1 defeat, with Sam Edmunds scoring their only goal. The other two games involving WKSFL sides are scheduled for next Sunday.


Kent Sunday Junior Trophy
AFC Borough's Reserves

go through to Round Three after a 3-1 home win against

Walnut Wanderers Reserves

from Maidstone. Scorers were Matthew Pickett, Jack Bowen and Freddie Simmons.



Insulators Reserves

were well outclassed by a superior

Tenterden Town

outfit and went down four - nil at home. Insulators came up against a top side, which included a large number of players from the Kent County League. They put up a fine performance to make a match of it. Although Tenterden ran out comfortable winners, they were complimentary about the young home side which can now concentrate on the league!



Riverside Colts

were another team with a long trip to the Ashford area and they were another team to lose, that being a 7-2 defeat by

Burton Grove

.



TW Ridgewaye Reserves

hosted

Vinters

from the Maidstone League, who went home 5-1 winners.



Royal Oak

were awarded a walkover against

Singleton Barn

,

Artois United Reserves

did not travel to

Fox Sunday FC

who were in their turn awarded the tie.


Division One / Two

With the top three otherwise engaged,

Pembury Sunday

took the opportunity to close the gap at the top with a 1-0 win at home to

Charcott

. The goal was scored by Charlie Johns, while in goal Toby Forward kept his third clean sheet of the season. he leads the League in that department.



Dormansland Rockets

also move upwards. They defeated

AFC Valour

4-2. Rockets were quick out of the blocks in this match and were two up within the first ten minutes. The first through possibly an own goal, but we'll be generous and give it to Rich Wetton and a second by Miguel Figuera Dunne.

Whether Rockets thought they had done enough or not is open to debate, but Valour came more and more into the match, with Tony Revell scoring one before half time and midway through the second half Aaron Holmes deservedly equalised.

At this stage it was anybody's game and the play became stretched. Ashley Hollom put Rockets' ahead and a fine header from Ollie Muggeridge sealed the victory.
.


Goudhurst United

recovered after two heavy defeats to put six past

AFC Tonbridge

. Jonny Riordan and John Bilsby each scored twice, there was also a goal from David Denton plus an own goal. In goal, Ricky Norman kept his side's first clean sheet of the season.



Paddock Wood

moved into second place behind Simla on goal difference. They overcame

St John's Yard

5-1 at the Elm Tree. I have no details of the game.


Phase One - each team plays the others once

Pos
Team
P
W
D
L
F
A
GD
Pts
1
Simla
5
4
0
1
19
8
11
12
2
Paddock Wood
5
4
0
1
15
11
4
12
3
Odukwe FC
4
3
0
1
27
7
20
9
4
Artois United
4
3
0
1
19
5
14
9
5
Pembury Sunday
4
3
0
1
12
2
10
9
6
Dormansland Rockets
5
3
0
2
15
16
-1
9
7
Goudhurst United
5
2
1
2
13
18
-5
7
8
AFC Valour
5
2
1
2
9
16
-7
7
9
Green Lane
2
2
0
0
9
2
7
6
10
AFC Borough
4
2
0
2
13
9
4
6
11
Charcott
5
1
0
4
13
11
2
3
12
Insulators
4
1
0
3
9
14
-5
3
13
TW Ridgewaye
2
0
0
2
4
11
-7
0
14
Saint John's Yard
4
0
0
4
1
22
-21
0
15
AFC Tonbridge
4
0
0
4
0
26
-26
0
Division Three

There were only two games, but a total of 21 goals were scored!



Sedlescombe Rangers

went to the top of the Division after crushing

Speldhurst Rangers

8-1 at St Mary's. This report from our correspondent was, I feel sure, written with tongue firmly in cheek. Speldhurst, he says, were unlucky not to come away with all three points. Speldhurst took the lead through a corner which was won by great perseverance, players hunting for the ball in packs like dogs. Greg Gamm managed to shape his body perfectly to deflect a strike into the goal. His celebration was to belly slide in front of the adoring crowd, which happened to be a record attendance. Sedlescombe somehow managed to score 8 whilst Speldhurst were still celebrating their goal. Speldhurst felt very hard done by as they were on top for most of the game.

The visitors goal tally reads : Alvin Scott 2, Harry Loates, Bradley Pritchard 2, Ryan Daniels, Hugh Lane and Archie Irving.

In the other game,

Ticehurst Village

and

Westerham

shared twelve goals.. An action packed game at The Bell Field finished with Ticehurst FC picking up their first win of the season beating Westerham 7-5. Ticehurst's Oli Marsh opened the scoring finishing a delightful ball over the to., Westerham then equalised before a Jason Marsh close range finish. There followed a Westerham penalty and then a Ticehurst penalty tucked away by Leon Fisher made it 3-2 at the break. The scoring continued in the second half with further goals from Jason Marsh and Leon Fisher completing his hat-trick, two goals late on from Westerham set up a tense finish but the three points went to Ticehurst.

Westerham's names on the scoresheet were Taylor Strange with a hat-trick, Michael Coldicott and James Beeney also struck.

Pos
Team
P
W
D
L
F
A
GD
Pts
1
Sedlescombe Rangers
5
4
1
0
22
7
15
13
2
Royal Oak
4
4
0
0
19
8
11
12
3
Brenchley
5
4
0
1
18
10
8
12
4
Speldhurst Rangers
6
2
2
2
17
21
-4
8
5
AFC Borough Reserves
4
2
1
1
15
10
5
7
6
Westerham
6
2
1
3
15
20
-5
7
7
TW Ridgewaye Reserves
3
2
0
1
16
7
9
6
8
Artois United Reserves
5
1
3
1
15
9
6
6
9
Insulators Reserves
5
2
0
3
10
10
0
6
10
Ticehurst Village Club
5
1
1
3
15
20
-5
4
11
Dunton Green
4
1
0
3
6
14
-8
3
12
Tonbridge United
4
0
1
3
4
21
-17
1
13
Riverside Colts
4
0
0
4
4
19
-15
0