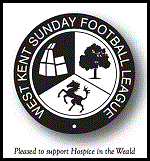 West Kent Sunday Football League Junior Cup 2019 – 2020
IT IS THE LEAGUE'S INTENTION TO RESUME AND CONCLUDE THIS CUP AS SOON AS CONDITIONS PERMIT
BUT WITH A STRAIGHT KNOCKOUT COMPETITION
The Junior Cup will be contested by all teams in Division Three.
The First Round will be played as a group, each team playing the others once.
The top four teams will advance to the semi-finals.
Fixtures and results - the grid does not show home or away.
Go to the week's fixtures to see who's at home.

Team
Bren
Goud
Hawk
Ins R
PadW
Tic V
TonO
TWRR
YALD

Brenchley
xxx

Goudhurst United
-

xxx

Hawkhurst
-

0-3
xxx

Insulators Reserves
1-2
-

1-2
xxx

Paddock Wood
7-0

1-1

-

2-2

xxx

Ticehurst Village
3-1

-

2-2

2-8

1-3

xxx

Tonbridge Origin
2-0

0-4

22 Mar

-
-

6-2
xxx

TW Ridgewaye Reserves
2-5
-

-
0-9
-
2-6

3-6
xxx

Yalding & Laddingford

3-4

22 Mar
4-1
3-3

2-7

1-6
5-3
5-5

xxx